Community Education Programs
Below you will find a list of our education program descriptions and upcoming dates. These programs are free and open to the public, but pre-registration is required. Click here to download a calendar of our upcoming education programs or use the "View Calendar Online and Register" button below to locate education programs in your area – just click on the program of interest and register online. If you have any questions or prefer to register over the phone, please call 888-280-6055. Call 973-453-2324 for information on cancellation or delays during inclement weather.
View Calendar and Register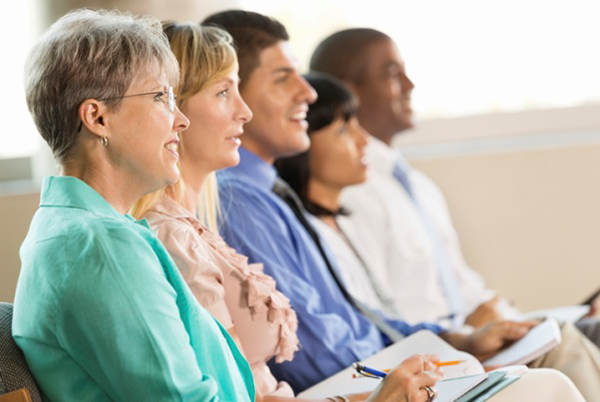 Receive Future Notifications
Alzheimer's 101
This program provides a comprehensive overview for anyone who wants to learn about memory loss, Alzheimer's disease, and other forms of dementia. Information about risk factors and warning signs, steps to obtaining a diagnosis, and treatment options are discussed. Planning for the future, coping with behavioral and other changes, and accessing community resources are also reviewed.
Communication Tips and Techniques in Alzheimer's Disease
As Alzheimer's disease progresses, people with the disease lose their ability to use words to communicate. Learn how to enhance communication at each stage of the disease, including how to recognize behavior as a form of communication. Topics include how to identify verbal and non-verbal messages and tips on how to maintain your relationship with your loved one as Alzheimer's disease brings changes.
Coping with Behavior Changes in Alzheimer's Disease
Behavioral changes in Alzheimer's disease and other forms of dementia can pose concerns for family caregivers. As the disease progresses, behavior often becomes the primary way people with the disease communicate their needs. Learn why people with Alzheimer's disease and other forms of dementia experience behavior changes, what those behaviors mean, and how to cope when behaviors are challenging.
Coping with Caregiver Stress
Caring for a person with Alzheimer's disease or other form of dementia can become an overwhelming experience. Often, caregivers neglect their own well-being because they are devoting so much time to the responsibilities of day-to-day caregiving. This program examines caregiver stress and offers coping strategies to become a healthier caregiver.
Healthy Aging: Tips for Your Body and Brain
Over the past several decades, researchers have explored how lifestyle factors may affect our physical and cognitive health. Diet, exercise, stress, sleep problems, and other factors may influence age-related physical and cognitive decline. Learn about the latest research on lifestyle changes and how to incorporate healthy habits into your daily routine.
Residential Care Options: Finding the Right Fit for Your Family
Determining when it is time to transition from home to a residential care setting can be very difficult.  This program is designed to guide caregivers through the process of selecting the most appropriate care setting; providing an overview of the options and highlighting factors to consider when choosing this new home.  The session also emphasizes the legal and financial considerations associated with moving an individual to a residential care setting. Techniques for making the adjustment easier for the person with Alzheimer's disease as well as for other family members are also discussed.
Safety Considerations in Alzheimer's Disease
Alzheimer's disease causes progressive changes in abilities and judgement. It is important for family caregivers to anticipate potential safety risks and take proactive steps to address the safety needs of a loved one with Alzheimer's disease. This program provides practical tips on fall prevention, home and medication safety, driving concerns, reducing the risk of wandering, and preparing for emergencies.
Understanding Memory Loss
Memory loss that disrupts everyday life is not a normal part of aging. This program explores the difference between normal age-related memory changes and abnormal changes that are associated with Alzheimer's disease and other forms of dementia, including some of the common warning signs. The presentation also reviews the importance of receiving a thorough diagnostic evaluation when symptoms first arise, current treatment options, and research regarding healthy aging.
Visiting the Person with Alzheimer's Disease
As Alzheimer's disease and other forms of dementia progress, visiting may become increasingly difficult. Many times family and friends struggle with what to say or do when they visit because the person with Alzheimer's may have difficulty participating in a conversation or in the activities that he or she used to enjoy. This program provides practical techniques to enhance visiting; helping participants find new ways to communicate and interact throughout all stages of Alzheimer's disease.
The following are intensive multi-part education programs that provide information for caregivers specific to the early, middle, and late stages of Alzheimer's disease.
Early Stage Alzheimer's Disease: An Intensive for Caregivers
Changes in memory, thinking, and communication become noticeable in the early stage of Alzheimer's disease. Individuals with Alzheimer's may need more time to manage typical daily tasks and may need assistance with more complex activities. Family caregivers will learn how they can adjust to a diagnosis of Alzheimer's disease by gaining an understanding of common early stage symptoms, making adaptations to daily tasks and responsibilities, and planning ahead for future changes.
Middle Stage Alzheimer's Disease: An Intensive for Caregivers
In the middle stage of Alzheimer's disease, gaps in memory and thinking make it more difficult for the person with the disease to manage daily activities without assistance, such as dressing, bathing and eating. Caregiving responsibilities increase as the progression of Alzheimer's causes changes in mood and behavior, sleep patterns, perception and safety awareness. In this program caregivers will learn more about symptoms, care strategies, techniques for responding to behaviors and available support resources, including respite care options.
Late Stage Alzheimer's Disease: An Intensive for Caregivers
In the late stage of Alzheimer's, the person with the disease is much less able to communicate using words and requires around-the-clock assistance. Goals of care become more focused on how the person with dementia can still communicate with others, and how to ensure that physical, emotional and spiritual needs are met. This program offers information about providing care in the late stage, including communication strategies, end of life considerations, and support resources.
Online Community Education Programs Schedule

Events Search and Views Navigation
No matching events listed under Community Education Programs. Please try viewing the full calendar for a complete list of events.
For more information about these programs, please contact Alzheimer's New Jersey® at 888-280-6055.