Alzheimer's disease creates many life-changing challenges for persons with the disease and their caregivers.  Completing everyday tasks and enjoying community outings and social gatherings with friends and family becomes difficult.
At Alzheimer's New Jersey, we strive to do everything possible to make sure that families have the support they need to make every day the best it can be.  Toward that end, we created Please Be Patient cards.
The card is intended to discreetly provide information to people who may need to know that your companion has Alzheimer's and can also be a great tool to help the person with Alzheimer's maintain dignity and independence.  In addition, the card can help to educate others while reducing your stress.
You can keep the Please Be Patient Cards with you and subtly give them out to a server at a restaurant, a barber or hairstylist, a taxi or Uber driver as well as to family and friends.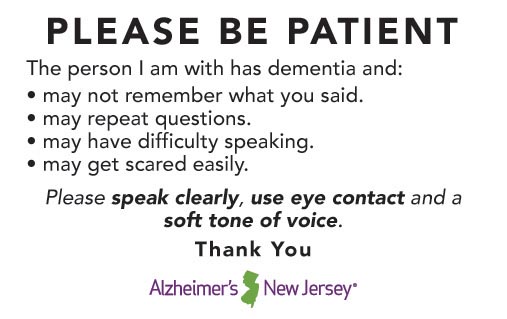 Please fill out the form below to receive a free set of Please Be Patient Cards. If you've previously ordered cards with this form and you need more cards, please call our Helpline at 888-280-6055.