Gina Cardenas' mother, Jeanne, was diagnosed with early onset Alzheimer's in her late 50s. Now 75 years old, Jeanne is unable to care for herself and barely recognizes Gina and other members of the family. Gina is heartbroken as she witnesses her mother's steady decline due to Alzheimer's disease, yet she is determined to make a positive impact on New Jersey families and individuals walking down the same difficult path.
Four years ago, Gina, her sister Michele, and friends organized a Walk team, "Fighting To Remember," and participated in their first Walk at Point Pleasant Beach, NJ. Since then, they have raised approximately $15,000 in total for Alzheimer's New Jersey®. "Alzheimer's not only affects the person (with the disease), it also affects the entire family and friends, " says Gina. "There is no prevention, slowing of the disease or cure. We walk in hopes of a cure. We also walk to provide resources and services desperately needed to help those on this journey live a better quality of life."
"Fighting To Remember" currently has 18 family members and friends registered on their walk team. On the day of the event, even more of Gina's supporters come out in force to participate. The fact that everyone walks for a single, common purpose – to put an end to Alzheimer's disease – motivates Gina and Michele to continue participating in and raising money for a cause that they both wholeheartedly believe in.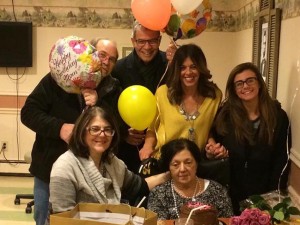 Gina has some sage advice for individuals looking to raise money for Alzheimer's research and support programs: "Keep in touch with your team. Social Media is the best choice for raising team funds. Let your team know how important it is to thank each and every person who makes a donation." And most importantly, "Thank each and every team member whether it be by email, social media or in person."
"In time, I am hopeful that a cure will be found to help END this dreaded disease."