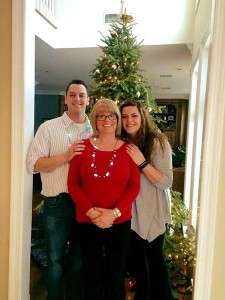 Bruni started to experience early signs of dementia several years ago when she was in her late 50s. At the time, Stephanie knew little about dementia; she assumed it just involved memory loss and was unaware of the physical and emotional toll that accompanies the disease. Stephanie's "obsessive" research (as she puts it) led her to several neurologists who were able to administer extensive tests and come up with the official diagnosis of dementia when Bruni was 61 years old. Bruni's condition progressed, and at age 62 she was officially diagnosed with Alzheimer's disease. She's been living with the disease for over 3 years now.
Stephanie immediately committed herself to learning more about the disease so she could provide Bruni the best care possible. "From day one, my responsibility was all medical. Making all appointments, bringing her to the appointments, working with doctors in regards to medications and discussing her progressions." To make things easier, Stephanie and her husband Nick, who she married last September, moved into Bruni's home 2.5 years ago to become her caregivers.  They also hired a caregiver to take care of Bruni while both Nick and Stephanie are away at work.
Bruni was once vibrant and full of energy, the matriarch of the family who took care of Stephanie and her two older siblings, Mark and Sandra, and did as much as she could to provide the best life for each of them. Years ago, when Stephanie lived out of state and before Alzheimer's reared its ugly head, Stephanie would call her mother every day to talk or vent about whatever challenges Stephanie was going through at the time. The comfort of her mother's voice and her wise advice instilled a sense of calm and confidence in Stephanie. She was grateful to have her mother as her champion, her best friend and her confidant. Now, Bruni can't even remember how to make a simple phone call.
"My biggest struggle has been accepting that my mother has this horrible disease, and learning how to have patience," said Stephanie. "That was the hardest, because my mom changed completely and I had to change the way I looked at the woman who had raised me."
"We have great days and we have bad days," she continues. "Mom doesn't fully comprehend what is happening, but she realizes something is wrong and gets very frustrated when she can't do something."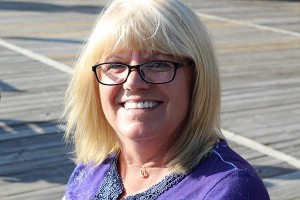 Fifteen years ago, Bruni taught Stephanie the art of knitting and yarn crafting, a passion that continues for both of them to this day.  Finding a deep connection with a person with mid-stage Alzheimer's can be difficult, but thankfully this was not the case for Stephanie and Bruni. "Mom was very big into knitting when she was a teenager so to pass this art down to me is a gift I will cherish forever," said Stephanie. "I keep mom knitting. Her skills aren't where they once were but she enjoys it and still makes beautiful projects. So, many evenings and weekends, we sit together and work on some knitting projects. I love being able to share this with her. I think doing this craft with my mom is something I will always hold close to me."
Despite the devastation of Alzheimer's, life still has its beautiful moments. At Stephanie's and Nick's wedding last September, Bruni was full of joy and happiness, and it clearly showed. It was a special moment for Stephanie and her family.  "I am not sure she really understood what was going on, but she told me how beautiful I looked, and she was so happy to get our hair and make up done," recalls Stephanie. "She loved her dress and dancing with my dad! My sister planned a special surprise for me.  She wrote a little speech for my mom to read to my husband and me on our wedding day. And when my mom stood there with my older sister, they both read it together." Bruni had a hard time reading the words, but her struggle was barely noticeable beneath the radiant smile on her face.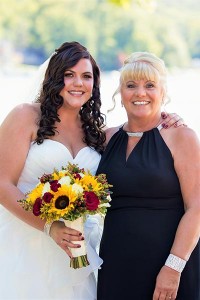 In addition to caring for her mother, Stephanie also runs 2 businesses and is actively involved with Alzheimer's New Jersey, serving on both the Young Professionals Advisory Council and being part of the Caregiver Roundtable. Alzheimer's New Jersey provides her with the tools and education necessary to become the best caregiver she can be. Her involvement with the organization also enables her to help with fundraising, as she is passionate about finding a cure for Alzheimer's disease. She is grateful to have Nick as a life partner who listens and supports her and a family who takes over caregiving responsibilities when she needs a break.
"If there is one piece of advice I can give any caregiver it would be this: Just breathe. Take one day at a time, and cherish EVERY moment you have with your loved one." Looking back, Stephanie wishes she took more photographs and spent more time talking to her mother and visiting different places together. But for now, any moment spent with her mother is a cherished moment, even if it's just sitting and knitting side by side, creating and connecting, in more ways than one.