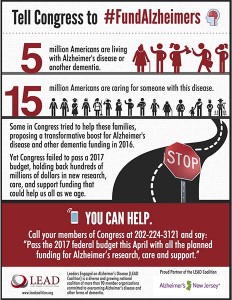 Alzheimer's New Jersey® is a proud member of the LEAD Coalition. Leaders Engaged on Alzheimer's Disease is a diverse and growing national coalition of over 85 member organizations including patient advocacy and voluntary health non-profits, philanthropies and foundations, trade and professional associations, academic research and clinical institutions, home and residential care providers, and biotechnology and pharmaceutical companies.The coalition works collaboratively to focus the nation's strategic attention on Alzheimer's disease and related dementias and to accelerate transformational progress in care and support to enrich quality of life, detection and diagnosis, and research leading to prevention, effective treatment and eventual cure.
With more than 5 million Americans suffering from Alzheimer's disease and over 500,000 individuals in New Jersey who have Alzheimer's or are caring for someone with Alzheimer's or other dementia, we cannot afford to slow down the search for a cure because of a federal research funding freeze or worse – research funding cuts.
The 2017 federal budget remains in limbo due to the Continuing Resolution (CR) that runs through April 28. The U.S. House of Representatives is trying to pass a defense spending bill that may include additional amendments to fund other parts of the federal budget. But there remains significant concern that some or all federal agencies may be subjected to a full-year CR that would freeze spending at 2016 levels. At stake for our community are all the dementia care, services, and research funding increases planned by House and Senate appropriations committees last spring, including as much as a 40% boost in dementia research.
Call your U.S. Senators and Representatives (through the congressional switchboard at 202-224-3121) with a simple message: "Pass the 2017 federal budget this April with all the planned funding for Alzheimer's research, care, and support."