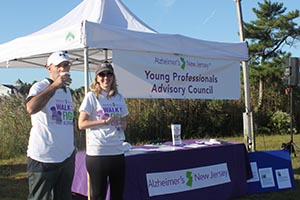 Alzheimer's New Jersey's (ALZNJ) Young Professionals Advisory Council (YPAC) was formed in February 2017 as a way to actively engage New Jersey's younger generation in the fight against Alzheimer's disease and other dementias.  Several of the inaugural members are currently part or full time caregivers for a loved one who has Alzheimer's.
Primarily geared towards young professionals aged 21-39 (though anyone can join), YPAC members are focused on recruiting young professionals through events to help raise funds, promote ALZNJ, and become advocates for the cause. Members also reap the additional benefits of meeting new people and developing new business opportunities, expanding their network of business contacts, and strengthening their teamwork and leadership skills.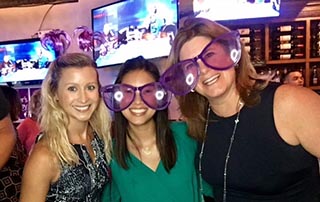 YPAC's first networking event was held at Mikie Squared Bar & Grill in Hoboken on Wednesday, Sept. 13. YPAC members and ALZNJ staff mingled, shared stories, and bonded over a common, steadfast mission. "I became involved with the Alzheimer's New Jersey Young Professionals network to raise awareness of Alzheimer's among younger people and energize them to join our efforts to raise funds to end this terrible disease," said Anthony R. "Both my mother and grandmother suffered from dementia so I know first hand how devastating brain-related disease can be."
YPAC members are given the opportunity to attend various programs and events, such as Group Volunteer Activities and Networking Events. A Caregiver Conference tailored specifically for Young Professionals is also in the works. Monthly committee meetings are held every 4th of the month via conference call.
Interested in learning more? Visit our YPAC booth at all four "Walk to Fight Alzheimer's" walks in September and October. Come by, introduce yourselves, and let us know how we can better serve you and the community.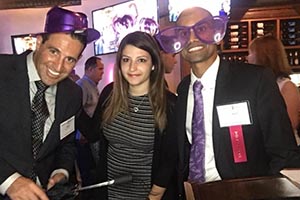 If you have questions about ALZNJ's Young Professionals Advisory Council or are interested in joining, please contact Julie Schuldner, Vice President, Development and Communications at: (973) 586-4300 or by e-mail: jschuldner@alznj.org