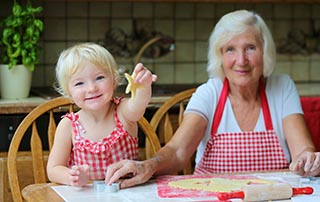 As a caregiver, do you find yourself feeling anxious as the holidays start to roll around? If so, read our tips to learn how to manage caregiver stress during the holidays so that you and your family can enjoy this special time of year together.
Before the holiday season approaches have a conversation with family and friends about your loved one's condition.  Be realistic as to what both you and your loved one with Alzheimer's disease are able to do.  It may be different than what you have done in the past – so acknowledge that it's OK to break tradition and form new ones. You may need to say "no" to keep things manageable.
Observing all traditions may be too difficult.  For example, large family events may be overwhelming   – leading to confusion  – so you may want to keep gatherings small and spread them out over several days.
If you feel overwhelmed, ask for support. Don't be afraid to suggest that family members share caregiver responsibilities during this time.
Schedule events earlier in the day to address sundowning.
Change in environment and routine can be confusing and cause disorientation so avoid  busy restaurants and unfamiliar surroundings.
Attend religious services at times when they may be less crowded or invite clergy to a service at your home.
Be aware that some holiday decorations could cause tripping or other safety hazards.
Take time for yourself – keeping healthy is important to manage the physical and emotional demands of caregiving.  Make sure you eat well and get enough sleep.