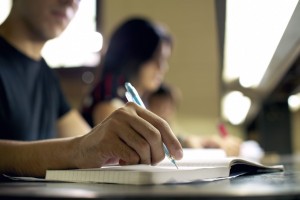 In January, Alzheimer's New Jersey® teamed up with the New Jersey Education Association (NJEA) to find New Jersey students who are making a difference in the fight against Alzheimer's disease. Alzheimer's New Jersey sponsored an essay contest for public middle and high school students (grades 6 through 12). Students were asked to share stories about helping to care for a grandparent or other loved one, organizing or participated in an event to raise funds and awareness about Alzheimer's or educating their friends and neighbors about the effect of Alzheimer's on their family, communities and our state. Education scholarships were awarded to the first place winner and the runner up.
Alzheimer's New Jersey is proud to announce our 2017 essay contest winners: Virginia Jiang, 18, of Princeton Junction and Will Phillips, 18, of Short Hills.
Virginia tells the story of her great-grandmother, who moved to the United States from China when Virginia was 8 years old. Once active and strong, Virginia's great-grandmother slowly and eventually succumbed to Alzheimer's disease over the course of 10 years, a process that was heart wrenching to witness. Virginia's sense of loss after her great-grandmother died further fueled her desire to fight Alzheimer's and find a cure. We wish Virginia well as she embarks on the next chapter in her life at Columbia University where she plans to study protein chemistry.
Will's grandmother suffered from memory, speech, and concentration issues as a result of a subdural hematoma. Her struggle inspired Will's passion to study cognitive psychology and neurology while he was still in high school. With the guidance of a mentor from Harvard University, Will began researching ways to improve quality of life in people with mild cognitive impairment (MCI), a possible precursor to Alzheimer's disease and other forms of dementia. In addition to his research, Will is also the co-founder of a high school musical group, Sounds for Seniors, that entertains and interacts with residents at senior care homes once a week.
Virginia and Will are only two shining examples of students throughout the state who have made fighting Alzheimer's disease their passion and goal. Alzheimer's New Jersey received 70 essay submissions, and we were encouraged and touched by all of them. The next generation of thoughtful caregivers, medical professionals, and advocates are determined to defeat Alzheimer's disease once and for all! We couldn't be more proud.
If you or someone you know needs support in the fight against Alzheimer's, contact our Helpline at 888-280-6055.