Over the recent Father's Day weekend, Alzheimer's New Jersey Board member and endurance cyclist Andy Dunberg challenged himself to cycle non-stop solo for 48 hours to raise awareness and $50,000 for Alzheimer's New Jersey Programs.
He launched his challenge at 7 A.M. sharp on Friday, June 19th and our team was there to see him off at Livingston Oval, the half mile track where he would "live" for the next two days straight.
On Saturday morning, Andy was greeted by ALZNJ's favorite meteorologist John Elliott of CBS 2 New York, who managed to catch him for just a few minutes so that Andy could explain to their viewers his passion behind completing this challenge. His father and aunt both passed away from Alzheimer's disease, and this challenge was his way of honoring their memories and support other caregivers in New Jersey whose daily struggles he knows all too well.
"Alzheimer's robs people of their memories, their ability to complete even the simplest tasks, and eventually, without exception, their lives, while putting a terrible strain on caregivers and their families" said Andy. "I know this first hand because my father and aunt passed away from Alzheimer's disease and the pain of losing loved ones in such an awful way has motivated me for more than 25 years to help other hurting families through my passion for endurance cycling."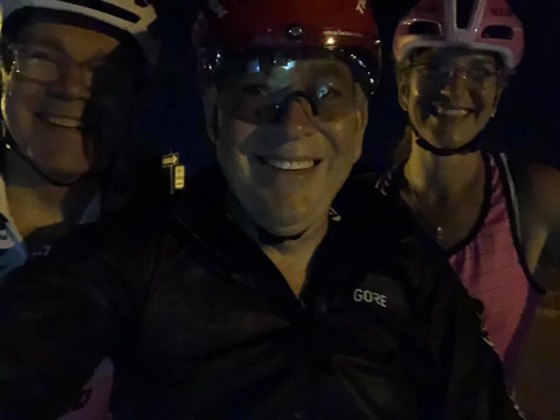 And a "passion" it really is! Who else would commit to 48 hours straight around a half mile loop? As Saturday crept into the early hours of Sunday morning, Andy's friends joined him as the clock struck 12 for support and comradery. Here they are at midnight, looking as full of energy as ever!
Come Sunday at 7 A.M, we couldn't believe our eyes by Andy was still riding, just as he said he would be. As his 48-hour endurance cycle came to a close, we know his father and aunt were beaming down on him, just as impressed and grateful for his dedication as we all are.
And we weren't the only ones. After learning of Andy's challenge via social media, Kurt Siegelin of News 12 New Jersey included Andy's story on his Jersey Proud segment that following Monday. In all, Andy rode 405 miles and raised $14,000!! A true accomplishment by a former caregiver dedicated to helping others in the Garden State. If you are inspired to help nudge Andy towards his impressive goal of $50,000, we invite you to make a donation.
As you know: Every bit counts. Together and inspired by Andy, we'll "Ride On" in support of all those in New Jersey impacted by Alzheimer's disease and dementia!
Link to news segment:
http://newjersey.news12.com/clip/15088333/jersey-proud-man-bikes-405-miles-in-48-hours-to-raise-money-for-alzheimers-research