Russell Rothman – Chair of the Board of Directors for Alzheimer's New Jersey®
They say it can happen to any family – and it happened to mine.
I am the Chair of the Board of Directors for Alzheimer's New Jersey. I am one of "I am one of over 600,000 people in New Jersey impacted by Alzheimer's disease of which more than 450,000 are caregivers."
Watching someone slip away because of Alzheimer's is heartbreaking. I know this first hand because I watched my mother, then her sister and brother, all battle this disease.
I came to know Alzheimer's New Jersey when my mother was first diagnosed in the early 1990's. My family was at a loss.  We did not know what to do or where to turn – however, a friend suggested that I call Alzheimer's New Jersey and I did.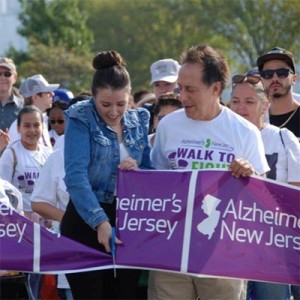 I will never forget my first call.  Alzheimer's New Jerseys' caring staff stayed on the phone with me for over 2 hours.  They gave me information and made helpful suggestions.  Most important, they were patient with me because they understood the emotional stress I was feeling.
When I got off the phone, I was so relieved. It was a great comfort to know that there was a group like Alzheimer's New Jersey right here at home – a resource  that my family could turn to for guidance during our uncertain and difficult journey as caregivers.
If a member of your family is diagnosed with Alzheimer's or dementia – call Alzheimer's New Jersey right away. Alzheimer's New Jersey has been helping New Jersey families live and cope with this devastating disease for over 30 years. They are a trusted partner in caregiving – there when you need them.
I have been inspired by the great work that Alzheimer's New Jersey does. I am proud to give my financial support because I know firsthand how Alzheimer's New Jersey is improving the lives of our New Jersey neighbors in need.  The challenge of Alzheimer's is only growing.
I thank Alzheimer's New Jersey for helping me in in my role as a caregiver. It is so important to know that you are not alone.  Contact our Helpline for support or more information: (888) 280-6055.
Photo Caption: ALZNJ Board Chair Russell Rothman and Walk to Fight Alzheimer's Ambassador Giselle Bellas mark the official start of Walk to Fight Alzheimer's® 2017 with a ribbon-cutting