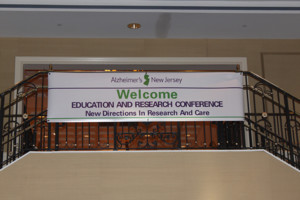 The 2017 Education and Research Conference for healthcare professionals, presented by Alzheimer's New Jersey, was held at The Palace at Somerset Park on Friday, April 28. During the previous evening of April 27, physicians and nurse practitioners gathered at The Palace for an education program geared more specifically to meet their needs.
The event is New Jersey's premier education conference for healthcare professionals with a focus on Alzheimer's disease and other dementias. Participants received the latest updates on advances in dementia research as well as information on care and support to enhance quality care for those in New Jersey who have Alzheimer's disease and other dementias. In addition to a day full of information and practical tips and techniques, healthcare professionals enjoyed the opportunity to network among other dedicated and compassionate colleagues.
Highlights of New Directions in Research and Care included a keynote presentation – "The Meaning and End of Alzheimer's Disease" – given by Hillel T. Grossman, MD, Mount Sinai Medical Center; a Care and Support Plenary Session – "State of the Science: Care of People with Dementia and Their Caregivers – featuring Nancy A. Hodgson, PhD, RN, University of Pennsylvania School of Nursing; and a Medical Plenary Session – "Frontotemporal Dementia" – featuring Paul F. Malloy, PhD, Alpert Medical School of Brown University. Other workshop sessions provided information pertaining to medication management, improving dementia care in facilities, and palliative care.
The conference also featured many sponsors and exhibitors with dementia related products and services as well as a wealth of knowledge and information about Alzheimer's disease and other dementias. Special thanks to Silver Sponsor Artis Senior Living.
Conference participants left The Palace with a renewed energy in their commitment to provide the best care possible for individuals and families in our state impacted by Alzheimer's disease.