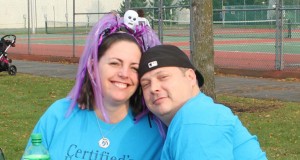 Formed in 2009, "Certified's Foot Soldiers" (sponsored by Certified Financial Services (CFS) of Paramus, NJ) has managed to maintain a consistent and increasingly strong presence at Alzheimer's New Jersey's Paramus walk for the past 7 years. CFS employee and team captain Pam Mellor, whose father, Ralph Fedele, passed from the disease in 2012 after a brave 10-year battle, credits her generous company and bosses with stepping up to support the group's fight against Alzheimer's disease.
"Certified's Foot Soldiers" raises an average of $13,000 during each walk season. In 2016, the group surpassed its cumulative fundraising total of $100,000 donated! This year, they are determined to exceed that total as they walk in memory of friends and loved ones who are, and have been, afflicted with Alzheimer's disease and other forms of dementia.
"Between my family, our associates, and friends and clients, we usually have about 60 to 70 walkers but have had up to 95 walkers," says Mellor. "At least 5 other associates at CFS have lost immediate family members (to Alzheimer's disease).  So it started with Ralphie but hits home for everyone."
Mellor's favorite part of the walk is the camaraderie that is evident amongst members of the team, especially those who have been personally touched by Alzheimer's disease or who have witnessed the struggle that an individual with Alzheimer's endures. At the walk, Mellor loves seeing people who helped care for her father during the last stage of his life. Participating in the walk, she says, "helps keep Dad close to our hearts and minds."
Her fundraising advice for other team captains and first time walkers: keep reaching out to friends and family consistently via email and social media, asking for their support while raising awareness about the 6th leading cause of death in the United States. Persistence is key! And her most practical advice on the morning of the walk? "Bring extra coffee!"
Take some time today to register for a walk near you. Together, we can make a difference in the fight against Alzheimer's disease!